Home Camera Articles FOR SALE Orders I Buy / Wants Repairs Books Adapters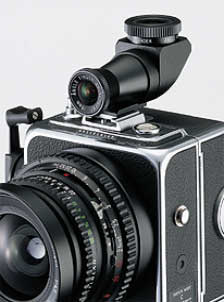 Cosina Voigtlander Low Angle Finder for all Hasselblad SWC Models
Discontinued and SOLD OUT
This is a special 2005 LIMITED edition low angle finder for the Hassy SWC. The Cosina factory closed order taking 3/31/2001 for ONE production run of 200 finders. After that, these finders will instant collectibles for both users and collectors alike. Most shooters will probably find it adds new versatility to their SWC. The 2nd production run of SWC finders in 2005 quickly sold out the factory.
The SWC Low angle finder differs from the 35mm format low angle finder with a Square format eyepiece for 2 1/4. Unlike the regular eyelevel SWC finder:
The Low Angle Finder allows easy low angle framing from the floor or ground for dramatic or unusual views. Try this with the eyelevel finder .. it's a pain..
The Low Angle Finder eyepiece rotates. You can place the camera against a wall or other surface to support camera or get an interesting view, and then just rotate the finder for easy viewing !
The Low Angle Finder has ASPHERICAL elements giving a VERY sharp bright view and very little finder distortion
Image is NOT reversed left to right -- viewing is normal
The Low Angle Hassy Finder takes the standard 15mm attachment for the 35mm format Low Angle Finder. So you can use the same front lens for both.
Built in diopter adjustment from 1.0 to 3.0
With a Voigtlander double accessory shoe, the SWC Low Angle Finder can be mounted side by side the Voigtlander VC meter.
The first production run of SWC finders sold out in 2001. They are now in the rare Hasselblad collectible category. A small 2nd production run in 2005 was also a quick sell out at the factory.
---
Home Camera Articles FOR SALE Orders I Buy / Wants Repairs Books Adapters
Copyright © 2001-10 Stephen Gandy. All rights reserved. Information in this document is subject to change without notice. Other products and companies referred to herein are trademarks or registered trademarks of their respective companies or mark holders.