Voigtlander's New Rangefinder Coupled 15/4.5 M V2 order HERE
Announced March 2009 -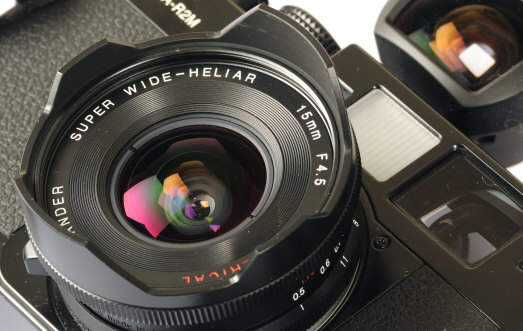 Hi Stephen,

I got the new 15mm rangefinder lens and got a chance to try it out yesterday. What a fantastic lens! Tack sharp right to the corner fully open. No distortion. I fitted a 52mm IR rejection (I use an M8), coded the lens as a WATE, and the camera recognized it as such and corrected falloff and cyan shift in the corners extremely well. The lens brings up the correct 28/90 lines for the M8, same as the Leica 16-18-21 WATE, so no problem coding it.

Its a home run!

Regards - Jim Browning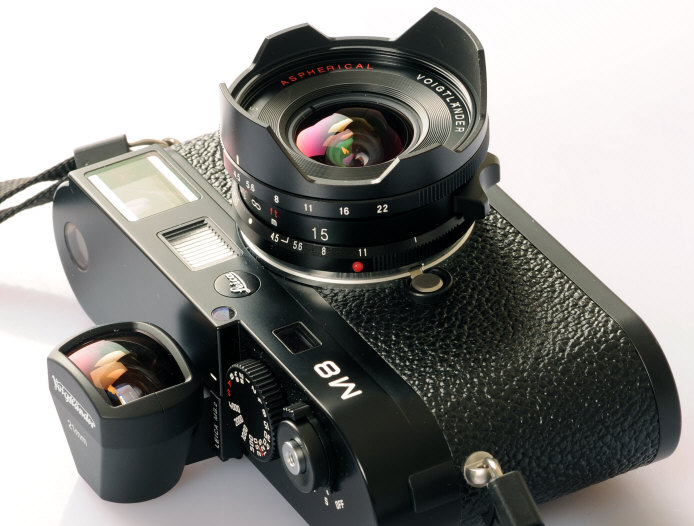 The Leica M8.2 mounting the 15/4.5 VM with the film 21mm Voigtlander viewfinder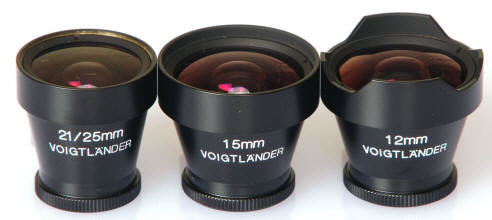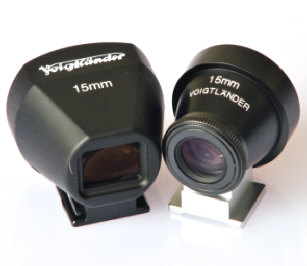 2010 Update: New improved Metal Version II 12mm $349, 15mm $209 and 21/25mm $209 viewfinders were introduced. Side by Side: The Version I and Version II Voigtlander 15mm Viewfinders, $149 and $209.
OK, What's the deal? Voigtlander's original 15/4.5 lens from 1999 established the Cosina-Voigtlander franchise and is still a best seller. Why gild the lily?

Because Mr. Kobayashi and Voigtlander always aim to improve their products.

Rangefinder coupled instead of scale focusing for more accurate focus

Now Leica M mount instead of Leica Screw Mount

Fixed lens hood

Brings up 28/90 frameline on Leica M bodies

Rear mount like the Voigtlander 28/2

52mm Filter size, instead of no filter ring. This is a very big deal for M8 owners wishing to mount IR filters

Easier to handle more ergonomically designed lens barrel

SAME sharp optics as screw mount 15/4.5

Small lightweight and easy to handle M lens - heavy lenses are not fun
Left to Right: Voigtlander 15/4.5 Super Wide Heliar, Zeiss 15/2.8 Biogon, Voigtlander Screw Mount 15/4.5 with M adapter
Imagine: A sharp 15mm M lens for less than the price of a used car!

15/4.5 M Mount Lens f/4.5 to f/22, half click aperture stops

8 elements in 6 groups - same optics as screw mount 15/4.5

Sold without viewfinder, use a fixed viewfinder or the 15-35 zoom finder

10 Aperture Blades

Closest RF Focus .7 meter, scale focusing to .5 meter

Filter Size: 52mm - easy to mount M8 IR filters

Size: 38.2 length x 59.4mm diameter

Weight 156 grains

Voigtlander 15/4.5 VM mounted on Epson RD1 with the Voigtlander 15D Viewfinder for the RD1

Left to right: Voigtlander 15/4.5 VM Super Wide Heliar, Voigtlander 28/2 Ultron, Voigtlander 35/1.4 Nokton

Voigtlander 15/4.5 VM lens on Voigtlander Leica M to Micro 4/3 Adapter mounted on Panasonic G1

"Outside" taken with the new Voigtlander 15/4.5 on a Leica M8, f/5.6 at 1/180

Copyright © 2009 Sonny Carter All rights reserved.
---
Revised: January 01, 2016. Copyright © 2009-10 Stephen Gandy. All rights reserved. This means you may NOT copy and re-use the text or the pictures in ANY other internet or printed publication of ANY kind. Information in this document is subject to change without notice. Other products and companies referred to herein are trademarks or registered trademarks of their respective companies or mark holders.