CameraQuest Home Shopping Cart Price List Camera Articles I Buy / Wants Repairs Books Adapters
Visual Quality #1 Series IV B Soft Focus Lens

American made Pinkham and Smith aka P&S lenses are among the most famous and prized soft focus lenses.

This particular lens is unusual and so far has its own mysteries.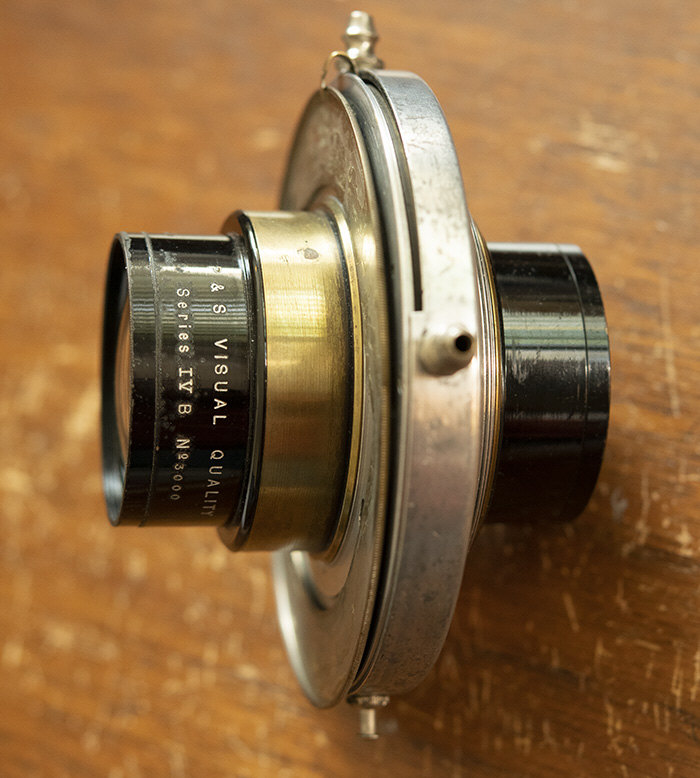 Probably 95% or more P&S lenses were large format produced for 8x10 or larger film formats -- which made for very large lenses.
The is a comparatively small #1 lens for 4x5 with 9" focal length. The diameter at both ends is 2 1/8," with a length of 3 1/2" including the mounted shutter.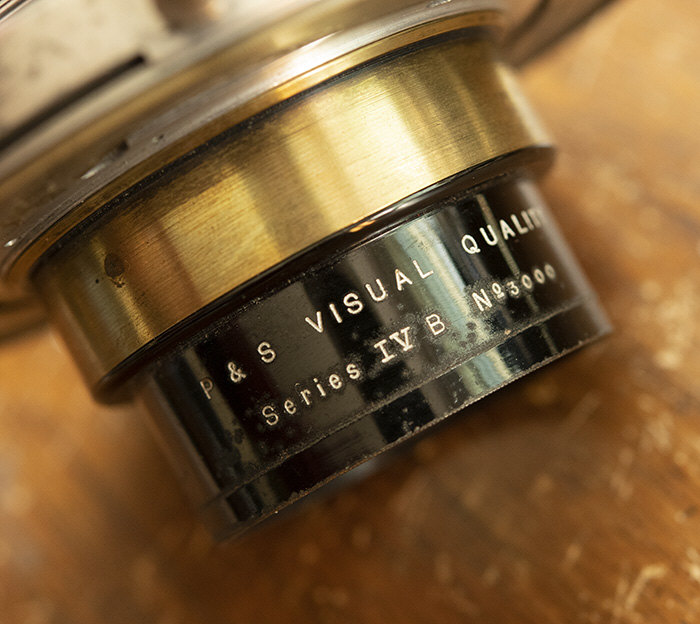 # 3000 is a very high P&S serial number, perhaps the highest number known.
The meaning of the B classification is unknown in my Google research.
You can find out more about Soft Focus P&S lenses here at Antique & Classic Cameras.
Here is a list of P&S lenses and serial numbers.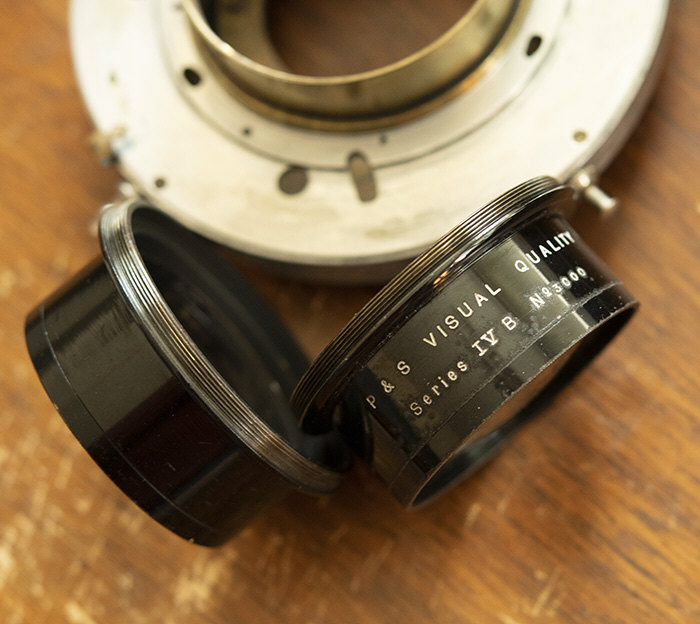 It will be fun shooting this lens. Please let me know if you can help solve the its mysteries.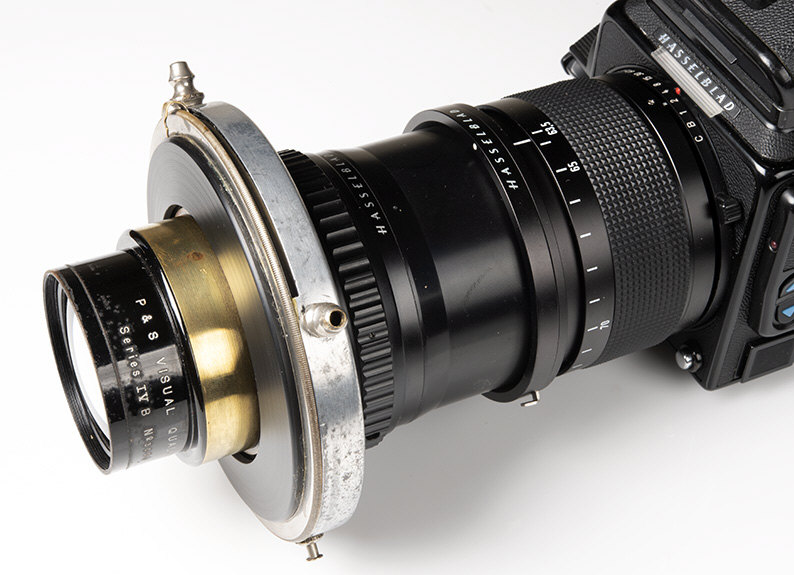 Wanting to keep the lens as original as possible, I left the non functioning Optimo shutter attached, adding a Hasselblad 55mm extension tube
plus another Hasselblad variable 63.5mm to 85mm extension tube. Focusing range is from infinity to about 10 feet.
Adding another extension tube provides closer focusing.
Pinkham Smith fan Jim Galli helped fill in some of the blanks. P&S lenses are known for their many, often inconsistent variations.
Apparently the factory had a very creative of looking at P&S designations.
For some reason B said to indicate an uncatalogued lens .. hmm uncataloged focal length or f/stop or both?
This particular lens seems to be unusual in several ways, including having the highest reported P&S number at 3000.
The Series IV WITHOUT a # to indicate focal length is another oddity
# 1 = 9" # 2 = 12" # 3 = 14 # 4 = 16"
Yet another oddity are the bright white numbers which may indicate a B&J aka Burke & James refurb with lens coating from the 1950's.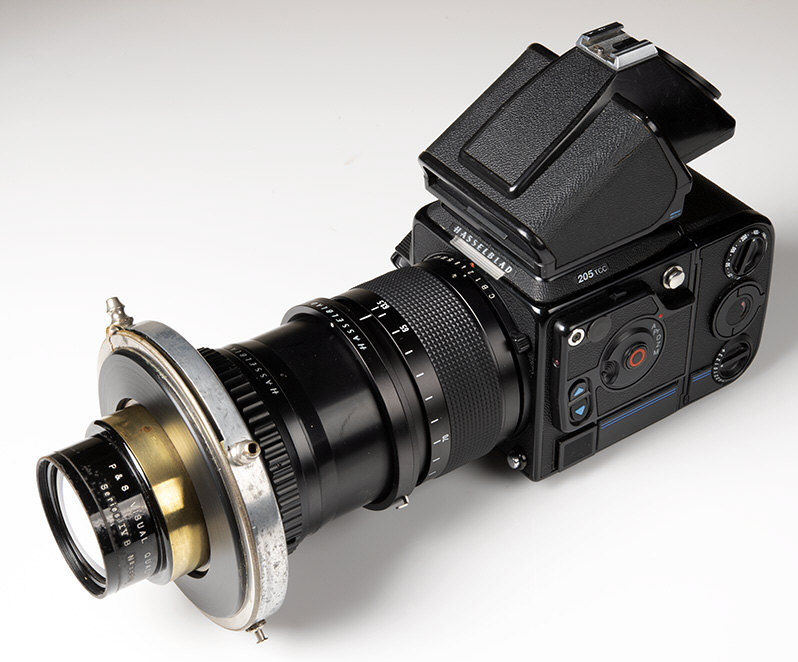 At least for the shorter P&S lenses, Hasselblad focal plane shutter bodies make for easy quick and convenient Pinkham Smith shooting.
---
CameraQuest Home Shopping Cart Price List Camera Articles I Buy / Wants Repairs Books Adapters
Revised: May 21, 2021. Copyright © 2021 Stephen Gandy. All rights reserved. This means you may NOT copy and re-use the text or the pictures in ANY other internet or printed publication of ANY kind. Information in this document is subject to change without notice. Other products and companies referred to herein are trademarks or registered trademarks of their respective companies or mark holders.