Home Camera Articles FOR SALE Orders I Buy / Wants Repairs Books Adapters
1000/11 Mirror Nikkor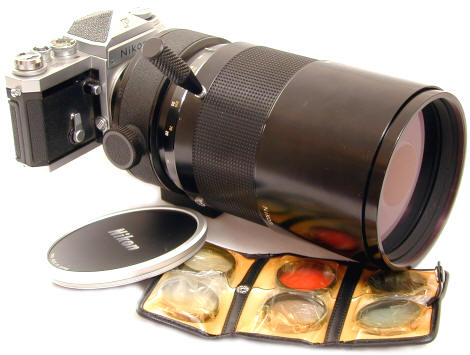 Introduced in 1965, the 1000/11 Nikkor replaced the much larger 1000/6.3, and remains in production today. The first 1965 version used built in rotating filters, much like the 1000/6.3. The 2nd 1974 version dispensed with the rotating filters, and used instead screw in 39mm filters at the end of the rear mount. The 3rd 1976 version, the one pictured here, added a large rotating tripod mount. Nikon included six filters with the lens as shown above, stored in top of the lens case. A filter IS required in the optical path for the lens to focus correctly. The 39mm screw in filters included are: 4x neutral density filter, orange O56, A2(82A Conversion), B2(82 B Conversion), and two L37C(UV Haze). While hard to find, the 1000/11 is more plentiful than the other Nikon super telephotos: 1000/6.3, 1200/11, 2000/11, 360-1200/11, and 1200-1700/5.6-8.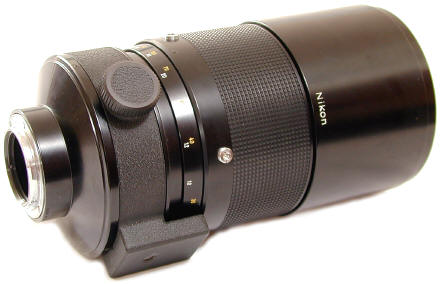 The built in telescoping hood extends the 9" length to 11 1/8." Close focus is just under 25 feet, though it can easily be made closer by an extension tube. The front filter threads are 108 mm. Weight is a hefty, but easily manageable four pounds.

The detachable screw in focusing handle is often lost and not offered for sale with used lenses.
The Nikkor 1000/11 has always been an expensive special purpose lens, which translates to relatively low production. It has yet to be much appreciated by collectors, a situation the low production will eventually solve.
---
Home Camera Articles FOR SALE Orders I Buy / Wants Repairs Books Adapters
Revised: November 25, 2003 . Copyright © 1998-2002 Stephen Gandy. All rights reserved. This means you may NOT copy and re-use the text or the pictures in ANY other internet or printed publication of ANY kind. Information in this document is subject to change without notice. Other products and companies referred to herein are trademarks or registered trademarks of their respective companies or mark holders.