Home Camera Articles FOR SALE Orders I Buy / Wants Repairs Books Adapters
Mamiyaflex 4x5 TLR? Almost
The Legendary...eh not so Legendary
Tomiyama Art-Flex 4x5 Twin Lens Reflex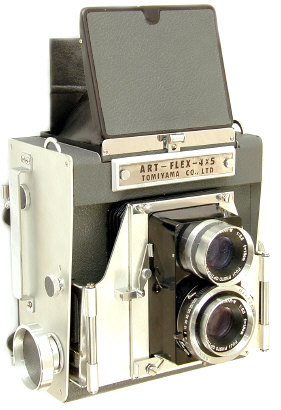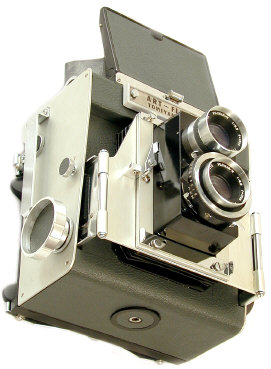 Hmm. This looks like a Mamiyaflex inspired 4x5 Twin Lens Reflex, complete with ground glass bellows focusing and interchangeable lenses. Holy Batman, What will they think of next ?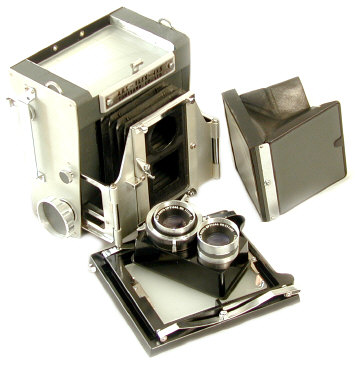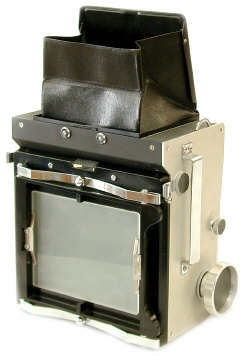 For a 4x5 Twins Lens Reflex, the Art-Flex is smaller than I would have imagined, and much smaller than the well known Gowlandflex, weighing in at 5 3/4 lbs (w/o film holder). The body measures 6 3/4" wide by 4" deep by almost 7 1/2" tall. Mounting the 150 lens adds 2 1/4" in depth. Raising the focusing hood adds 4" in height. It made from high grade aluminum with steel fittings. Right or left hand focusing knobs move the racked bellows. The small knob above the focusing knob is a focus lock. Close focus with the 150 lens is about 30." The relatively compact body has no rotating back, so only horizontal 4x5 shots are possible unless you turn the camera on its side. However, since the back is detachable, it is not difficult to suspect a vertical 6x7 or 6x9 back using a 120 roll film back may have been available. Notice the strap lugs, this IS a hand holdable 4x5 ! Before anyone asks, the Art-Flex follows standard TLR tradition and offers no lens movements.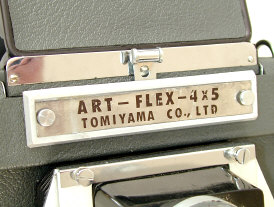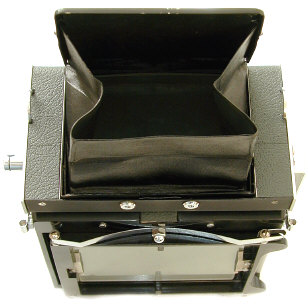 The plain focusing screen is adequately bright, but nothing to write home about with the f/6.3 lens. There is no built in parallax correction in the finder (like the Mamiya 330), but you can check exact framing on the ground glass. The back on this particular camera is a standard spring 4x5 back, though a Graflok back might have been an option.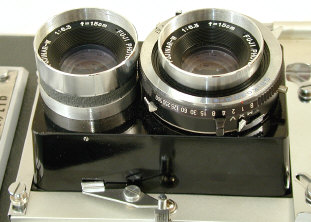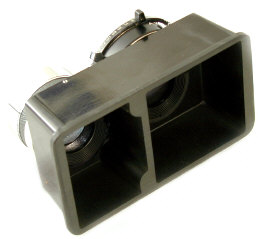 Shown mounted here are a matched pair of 150/6.3 Fujinar-W lenses in a synced Seikosha-SLV shutter, speeds from 1 second to 1/500th plus B, and f/stops from f/6.3 to f/45. To remove the lens, move the sliding bar below the lens, and lift the lens out. I'm not sure what other lenses (if any) were made. Mamiya Twin Lens Reflexes (TLR) users should have no trouble noticing design similarities in the Tomiyama TLR.
The only other 4x5 TLR I had ever heard of is the Gowlandflex, produced by famous glamour photographer Peter Gowland in Santa Monica California (a beachside Los Angeles community). While Gowland's design features the luxury of a rotating back, the Tomiyama design is much smaller and compact.
Who made it and when? I don't know. So far, I have been unable to find a listing of this camera anywhere. The previous owner could provide no info about it. Oddly, the original box proclaims "Color-Flex" -- not the "Art-Flex" on the camera. Alas, I have no instruction book or place of manufacture. IF you recognize this camera and know something of its history, please let me know.
---
Home Camera Articles FOR SALE Orders I Buy / Wants Repairs Books Adapters
Revised: November 25, 2003 . Copyright © 2002 Stephen Gandy. All rights reserved. This means you may NOT copy and re-use the text or the pictures in ANY other internet or printed publication of ANY kind. Information in this document is subject to change without notice. Other products and companies referred to herein are trademarks or registered trademarks of their respective companies or mark holders.