Home Camera Articles FOR SALE Orders I Buy / Wants Repairs Books Adapters
Rayqual Adapters for the Fujica XPro1 / X-E1
Rayqual

Lens Adapters for

Fuji XPRO1 / X-E1

Correct Infinity Focus!

Canon FD / FL Lenses $179

Contax/Yashica 35mm SLR Lenses (not G) $179

Exakta Lenses $179
Leica M Lenses $179

Leica R Lenses $179
Nikon F (lenses with aperture ring ) Lenses $179

Olympus OM Lenses $179

Pentax K (lenses with aperture ring ) Lenses $179

Pentax M42 Screw Mount Lenses $179
Photo Copyright John K. Lei 2012 All Rights Reserved

Thanks so much for the CV 15mm! Using it and the Rayqual LM to FX adapter I ordered from you 

on my Fuji X-Pro without any problems. The adapter is a good tight fit, no play at all! 

The lens seems to work beautifully - nice and sharp and no major issues with the corners. 

I'm very pleased. I am also using my CV 50mm f1.5 with the adapter and it works great too. 

Manual focusing with these lenses is a breeze on the Fuji!   John Lei

Rayqual is well known in Japan for producing the highest quality lens adapters of any independent Japanese adapter maker. This is by virtue of their outstanding precision, fit, finish, and attention to detail. Some of their designs are patented. In my opinion Rayqual adapters are every bit as good as the much more expensive German made adapters. If you want a well made adapter that fits properly and focuses properly for your XPro1, there is no better quality lens adapter.

Rayqual Leica M to Fujica XPro1 / X-E1 Adapter $179

Please note that Rayqual's Leica M adapter (and all of the other Rayqual FujiPro adapters) has correct infinity focus - which the Fuji adapter does not have. This allows you to quickly and more accurately zone focus using the lens distance scale - especially convenient with super wide lenses.

Rayqual Nikon F (with aperture ring) Mount to Fujica XPro1 / X-E1 Adapter $179

Rayqual Contax / Yashica to Fujica XPro1 / X-E1 Adapter $179

Rayqual Canon FD / FL to Fujica XPro1 / X-E1 Adapter $179

Rayqual Exakta / Topcon to Fujica XPro1 Adapter $179

Rayqual Olympus OM to Fujica XPro1 / X-E1 Adapter $179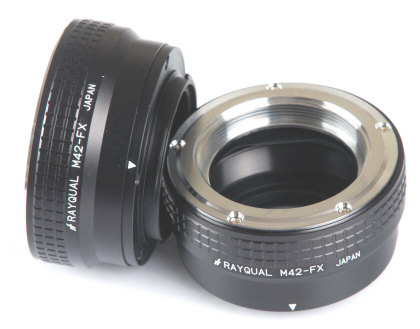 Rayqual Pentax Screw Mount M42 to Fujica XPro1 / X-E1 Adapter $179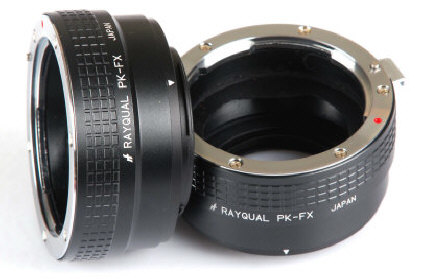 Rayqual Pentax K / KA Mount (with aperture ring) to Fujica XPro1 / X-E1 Adapter $179
---
Fuji XPro1 Tips from John Lei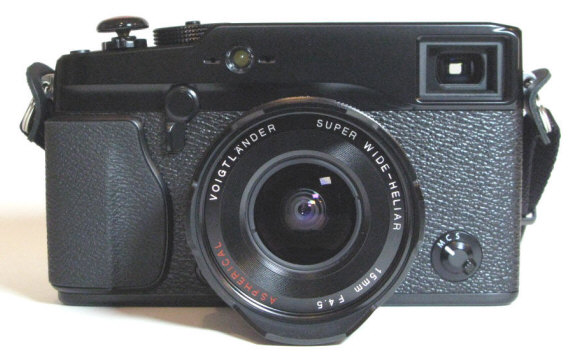 Photo Copyright John K. Lei 2012 All Rights Reserved
- Focus drive MANUAL

- Lens focal length set to 15mm (banks #5 and 6 are customizable)

- Shoot WITHOUT lens is set to ON (very important)

- FN button set to ISO

- Velvia film simulation (because I like it)

On my few field trips, I've mostly shot using the EVF and magnification for manual focusing (about 75%), shot with the OVF and zone focused the other 25% of the time. Once you get used to it, zone focusing is actually quite simple and great for street candids. Focusing with the EVF is also pretty simple and becomes quick once you get the hang of the magnified view for fine tuning. During my last outing, I'd say my focus hit rate was about 85% - which for me is actually pretty swell.
---
Home Camera Articles FOR SALE Orders I Buy / Wants Repairs Books Adapters
Revised: September 09, 2017 . Copyright © 2013 Stephen Gandy. All rights reserved. This means you may NOT copy and re-use the text or the pictures in ANY other internet or printed publication of ANY kind. Information in this document is subject to change without notice. Other products and companies referred to herein are trademarks or registered trademarks of their respective companies or mark holders.