Home Camera Articles FOR SALE Orders I Buy / Wants Repairs Books Adapters
US Navy Canon F1n
The US Navy has used Canon F1's and AE-1's for a number of years. You will be happy to know that Navy photogs are given special instructions to carefully take care of their equipment, just for the sake of future ownership by a camera collector (ha ha ha ha). The truth is that military photogs are very hard on their equipment, most simply don't care -- they don't have to pay for it after all. The quickest way to spot a fake US military camera is if it's in too nice a condition.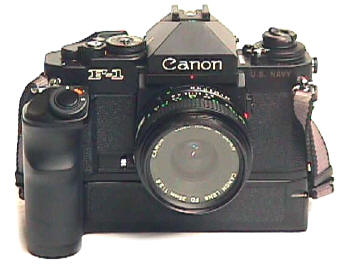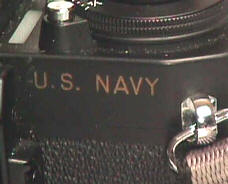 US Navy engraved F1n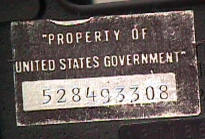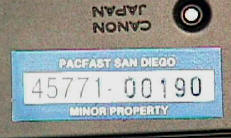 Sticker on bottom of motor drive, sticker on bottom of F1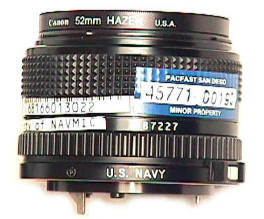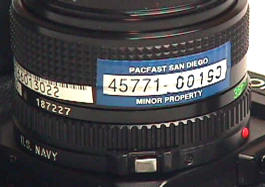 Various US Navy engravings and stickers for inventory control. This particular kit had a 28/2.8, 35/2, 50/1.8 and 200/2.8. However, US Navy F1 kits vary widely and there seems to be no standard kit.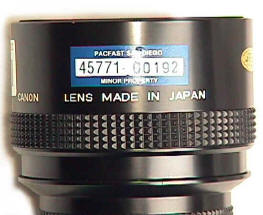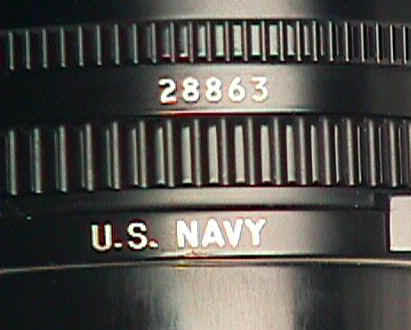 One of the most interesting things from a collector's standpoint is bar-coded stickers used for inventory control. Apparently camera equipment is bought from any number of sources, including official military contracts and if need be, the local camera store. While US Navy Nikon cameras and lenses are rare and high priced, US Navy Canon equipment usually sells for a very small premium above usual used prices. I have no estimated production or contract figures, but I do know from experience Canons are the easiest to find US Navy cameras.

This is the label for the aluminum carrying case.
---
Revised: November 25, 2003 . Copyright © 1998-2002 Stephen Gandy. All rights reserved. This means you may NOT copy and re-use the text or the pictures in ANY other internet or printed publication of ANY kind. Information in this document is subject to change without notice. Other products and companies referred to herein are trademarks or registered trademarks of their respective companies or mark holders.