CameraQuest Home Shopping Cart Price List Camera Articles I Buy / Wants Repairs Books Adapters
Nikon Rangefinder 25mm f/4 Nikkor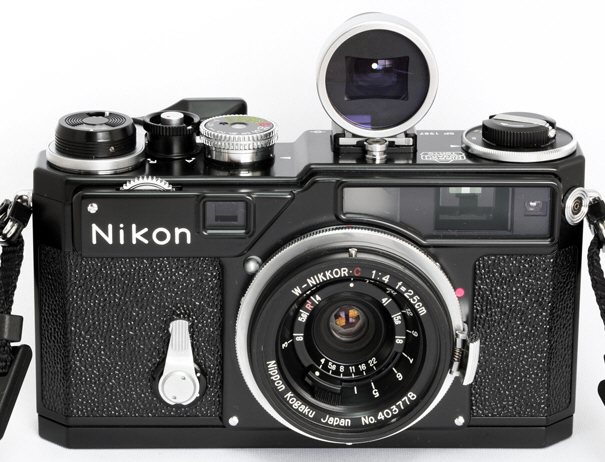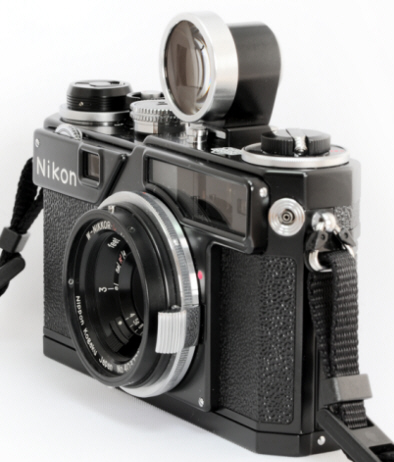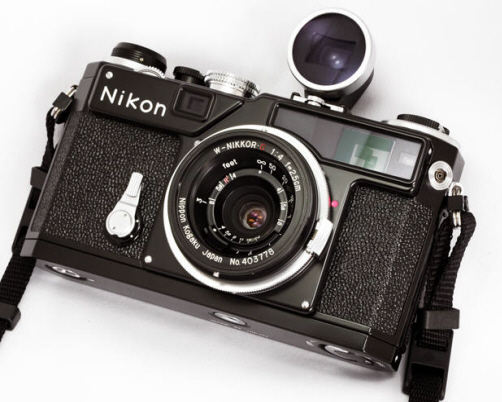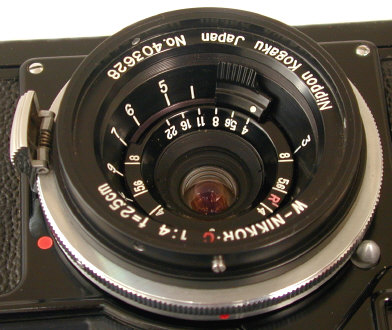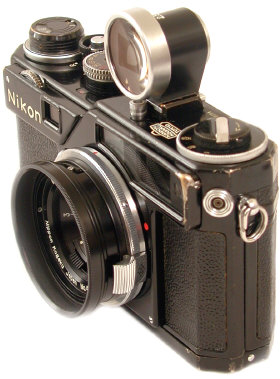 The 25mm f/4 Nikkor was introduced in 1953 when super wides were far and few between as Nikon's widest 35mm format lens, To this day, it remains the only 25 Nikkor. While it is not a great performer by today's standards, it still produces good images. The most amazing thing is how small the 25mm f/4 is. It protrudes only about 3/8 of an inch from the camera. The knurled tab sets the f/stops. Unlike other Nikon rangefinder wide angle lenses, the 25mm f/4 can be focused ONLY using the focusing wheel. The helical rotates inside lens barrel, while the outer barrel remains fixed. The very small size and light weight make it a joy to shoot.

The 25mm f/4 Nikkor came complete in its own special case with:

The lens itself
A deep rear cap designed just for this lens
A bayonet front cap, again designed just for this lens
A 25mm Viewfinder
A bayonet lens hood taking Series VII filters
A red velvet lined cradle for the finder to sit on inside the lens case
A small leather insert that holds the lens shade
Unfortunately Nikkor 25's are often found with its elegant lens kit missing or incomplete. When something is missing, the collector's value is substantially reduced.
Vintage 25m Nikon finders are essential for collectors, but miserable for shooters. Use a modern Voigtlander, Zeiss or Leica finder instead.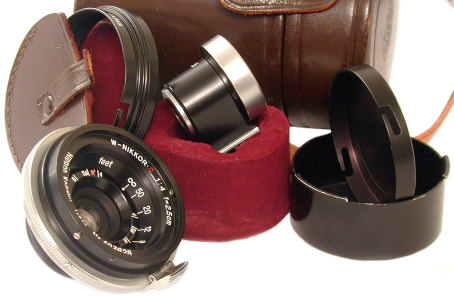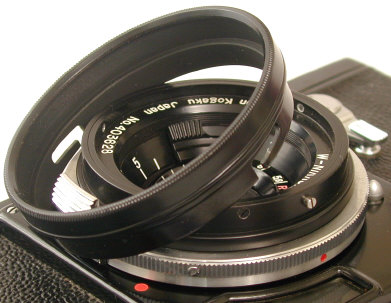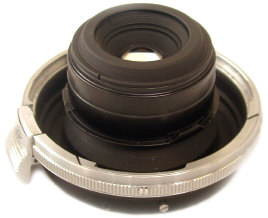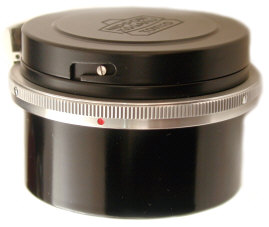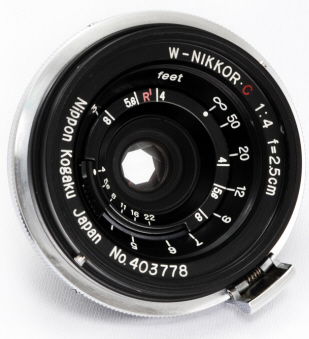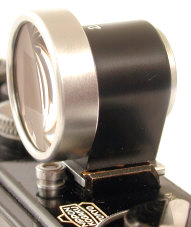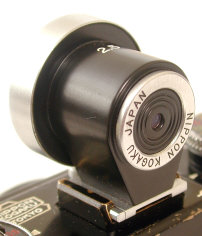 The 25mm f/4 Nikkor is amazingly small, protruding out only about 3/8" from the body. The lens shade is elegantly designed with a bayonet mount which attaches to the two bayonet lugs on the lens barrel. Woe to you if you lose the special bayonet shade, bayonet lens cap, or for that matter any part of the 25mm f/4 lens kit -- parts are very difficult to replace. The shade unscrewed to take a Series VII filter. The lens has F/stops down to f/22 and a close focus distance of 3.5 feet. It is a simple four element symmetrical optical design, which appears to be a copy of the East German Zeiss 25mm f/4 Topogon for Contax rangefinders, introduced in 1950. Like most Nikon rangefinder lenses, turn the lens and the body helical to infinity before mounting or dismounting lenses.

The 25 Nikkor finder is not a brightline and has a rather small field of view. Finders for the Leica screw mount 25mm f/4 version have a "L" engraved on the bottom of the shoe. For shooting, a modern brightline like the 25 Voigtlander is a far better choice.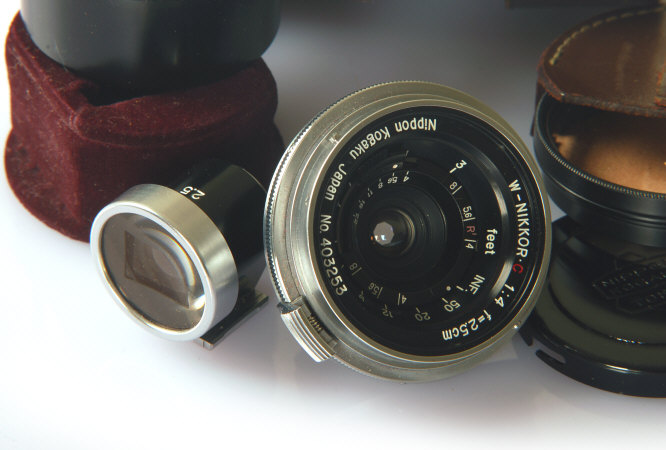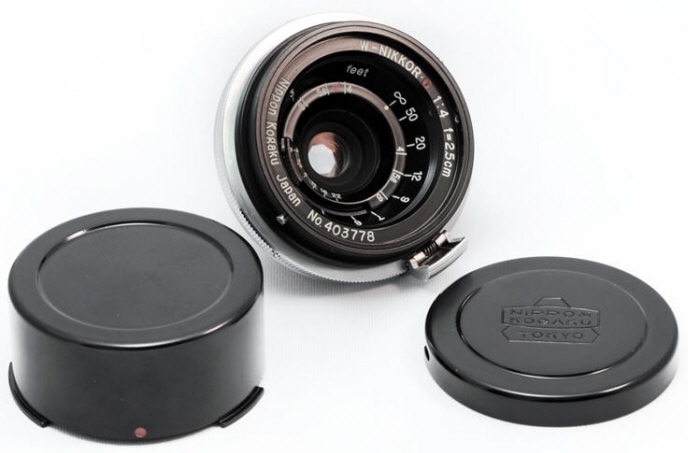 pictured above is the chrome 25mm f/4 in Nikon rangefinder mount
Three versions:

Chrome Nikon RF mount - approximately 1000
Black Nikon RF mount - approximately 1500
Chrome Leica Screw mount - unknown production, but probably only a few hundred, if that

Although the chrome Nikon mount is rarer, the black version commands higher prices due to collector preference. The Leica Screw mount 25mm f/4 was made only in chrome, with a screw in shade instead of the bayonet. I once bought one with a Leica bayonet adapter, for $20 out of a dealer's junk box. Bargains await the sharp eyed.

Due to the extreme rarity and high prices of the Nikkor 21/4, the 25 is likely to be the widest Nikkor most of us will ever own for our Black SP with Motordrive.

Some photos on this page are courtesy and copyright of Jon Mitchell. They are identifiable by Mitchell in the jpg file name.

A chrome 25mm f/4 Nikkor mounted on an original Black Nikon SP, mounting Tom Abrahamsson's prototype SP Rapidwinder No. 2.
When Rangefinders were still king (basically before the introduction of the Nikon F in 1959), there were only two 25mm lenses widely available to 35mm Rangefinder fans: the Canon 25/3.5 and the Nikon 25/3.5. About 7700 Canon 25/3.5's were produced 1956 to 1975, only in Leica screw mount, only in chrome. About 2,874 25/3.5 Nikkors were produced from 1953 to 1961, 1,924 in Nikon Rangefinder mount (both chrome and black versions) and 950 in Leica screw mount. In the classic Rangefinder era, 25's were very few and far between.
Want more info on Nikon Rangefinders? Buy Bob Rotoloni's book The Complete Nikon Rangefinder System.
---
Voigtlander Nikon/Contax Rangefinder Related Products

Voigtlander Bessa R2S R2C Rangefinders in Classic Nikon or Contax Rangefinder Mounts

Voigtlander Bessa R2S 50/3.5 Heliar S NHS Commemorative in Classic Nikon Rangefinder Mount

Voigtlander SL 12/5.6 and 15/4.5 Aspherical widest EVER for NRF

Voigtlander Nikon Rangefinder SC Mount Lens Intro 21/4, 25mm f/4, 35/2.5 intro

Voigtlander Nikon Rangefinder SC Lenses: SC 21/4, SC 25mm f/4, SC 28/3.5, SC 35/2.5, SC 35/1.2 Prototype, S 50/1.5, S 50/2.5, S 50/3.5, S 85/3.5

Voigtlander VC Meter II small compact silicon meter with LED readout for Nikon Rangefinders

---

CameraQuest Home Shopping Cart Price List Camera Articles I Buy / Wants Repairs Books Adapters
Revised: September 12, 2017 . Copyright © 1998-2010 Stephen Gandy. All rights reserved. This means you may NOT copy and re-use the text or the pictures in ANY other internet or printed publication of ANY kind. Information in this document is subject to change without notice. Other products and companies referred to herein are trademarks or registered trademarks of their respective companies or mark holders.