CameraQuest Home Shopping Cart Price List Camera Articles I Buy / Wants Repairs Books Adapters
Rectangular LH-1 Lens Hood

for Voigtlander Screw mount 21/4, 25/4 , 28/3.5 and Voigtlander 21/4P and 25/4 P Leica M mount lenses
Discontinued Hard to Find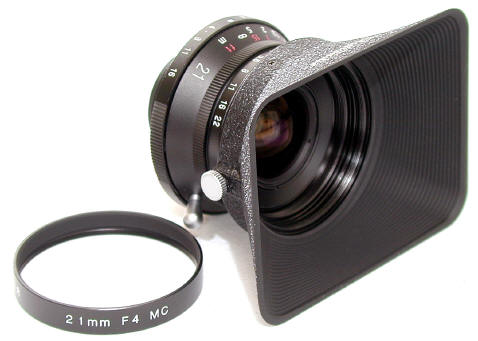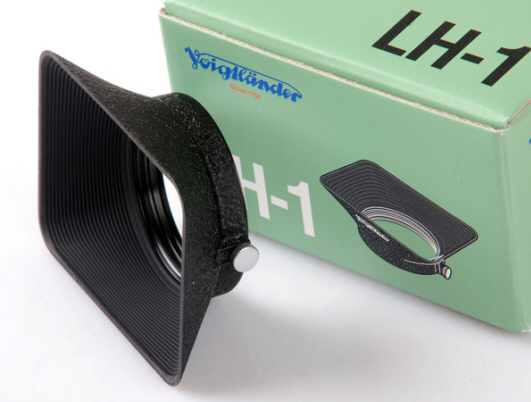 In September 2001 Cosina Voigtlander introduced a new rectangular metal shade for their 21/4 Color Skopar in Leica mount. It will also fit the 25/4 and 28/3.5 Color Skopars in Leica mount, but not the 21/4 SC Skopar in Nikon Rangefinder mount. I haven't done any tests of the standard round shade Vs the new much larger rectangular shade, but it stands to reason this much larger shade with its stepped interior will be additional flare protection. If you like to shoot against the light, or with bright light sources outside of your frame, this may well be worth a look.
The new shade consists of 3 parts: the rectangular body, a rotating threaded mount, and a chrome lock screw.
Unscrew the round hood, you will probably find this easier with the lens cap attached
Screw in the rectangular hood (it will rotate if the lock screw is loose)
Rotate the rectangular hood until Voigtlander name is on top
Lock down the hood with the set screw
You can use filters, just by attaching them before you attach the hood
Alas, so far there is no push on lens cap to go over this new hood
To remove the round hood on your screw mount 21/4, 25/4, or 28/3.5 to mount the LH-1, leave the lens cap ON the lens when you unscrew the lens hood.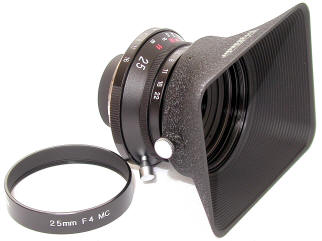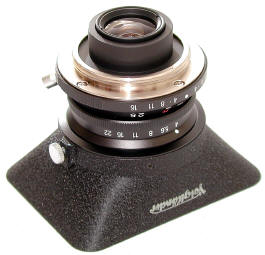 Although the hood is wide enough for 21, it will also fit the 25/4 and 28/3.5.

Due to the female threads on this shade which fit the external male threads on the Voigtlander 21/4, 25/4, and 28/3.5 Leica Screw mount Voigtlander lenses, and the M mount 21/4P and 25/4 P.

The LH-1 will fit ONLY these lenses, NOT the same Voigtlander lenses in Nikon Rangefinder mount, nor any Leica made lenses.

Prices Voigtlander System Bessa R2A/R3A Bessa Chart Bessa R2 Bessa T Heliar 101 101 PICS Bessa T intro Bessa T T or IIIf? Bessa R Bessa L Bessa L/A Lenses 35/1.2

Accessories VC Meter II MiniSoftrelease Bessa R2S & R2C SC Lens Intro SC Lenses SL Lenses SL 12&15 Lenses Prominent 50mm Lens Adapter
---
CameraQuest Home Shopping Cart Price List Camera Articles I Buy / Wants Repairs Books Adapters
Revised: April 19, 2021 . Copyright © 2003-21 Stephen Gandy. All rights reserved. This means you may NOT copy and re-use the text or the pictures in ANY other internet or printed publication of ANY kind. Information in this document is subject to change without notice. Other products and companies referred to herein are trademarks or registered trademarks of their respective companies or mark holders.