CameraQuest Home Shopping Cart Price List Camera Articles I Buy / Wants Repairs Books Adapters
2001 Voigtlander 101st Heliar Anniversary Sets Pictorial
2009 Nickel Version 50/3.5 Heliar Leica Screw Mount IN STOCK!
Nikon Rangefinder version 50/3.5 Heliar Lens IN STOCK!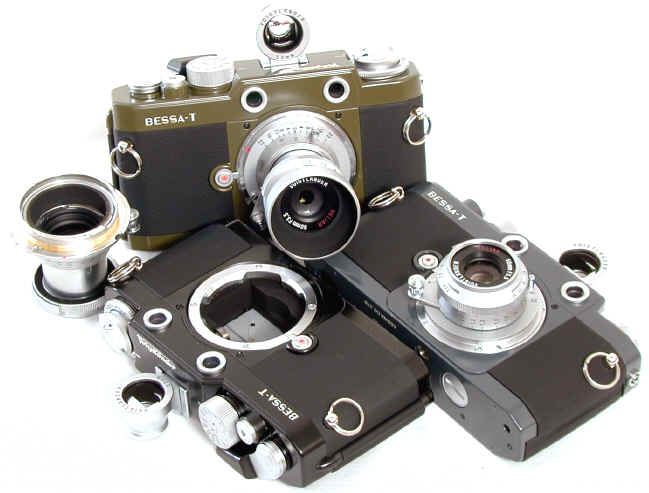 Shown are the Olive Green, Black, and Grey paint 101 Bessas.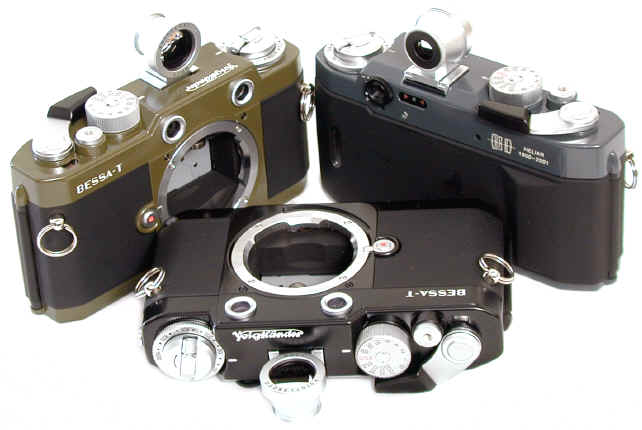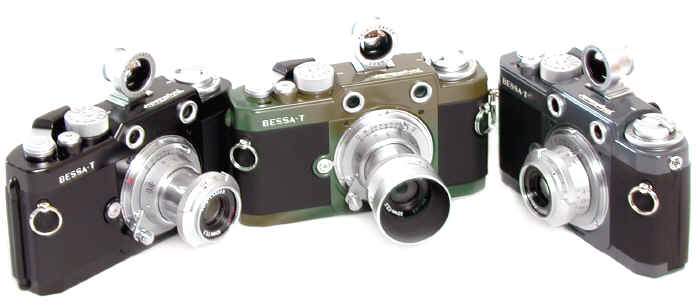 The 50/3.5 Heliar without shade, with shade, and collapsed into the body.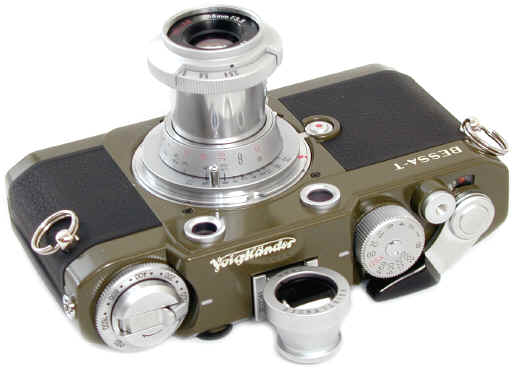 The spectacular 50/3.5 Heliar earned the highest possible praise from the American magazine Popular Photography. The extensive Pop lab Test proclaimed the little Heliar
"Superb, all-metal, high-precision collapsible-tube lens mount." "SQF results were excellent -- on a par with the best lenses we have ever tested." "A handy, high-precision, magnificent lens to treasure. It's doubtful that any other commercially made lens will produce superior results."
Alas, Cosina has announced the 50/3.5 Heliar will ONLY be sold with the 101 Heliar sets. According to Cosina's CEO Mr. Kobayashi, 2000 101 sets were produced.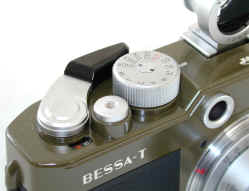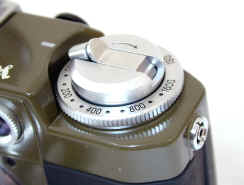 The top deck trim is chrome over brass fittings.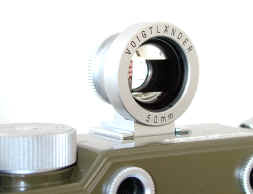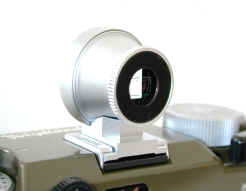 This 1:1 50mm brightline finder is exclusive to the 101 camera.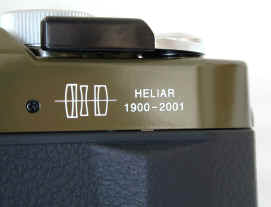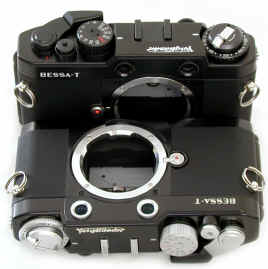 To the right, a standard black Bessa T on the top is compared to the black 101 Bessa.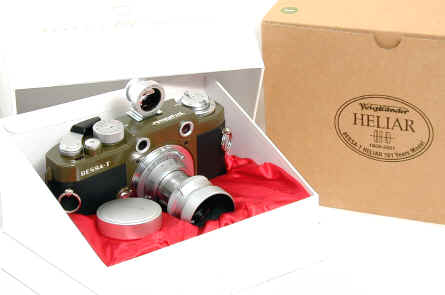 Even the packaging is special for the 101.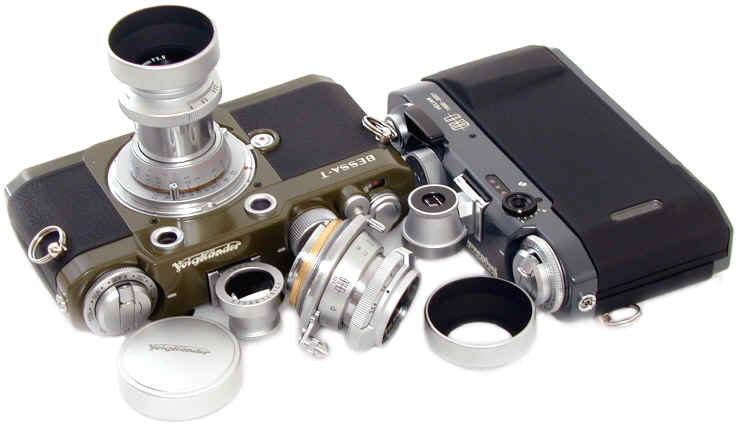 Shown are the front and back of the 101 cameras, as well as different views of the lenses and finders.
COLLAPSIBLE NOTE for Leica M8, M8.2, M5, CL: On my sample cameras, the Voigtlander 50/3.5 Heliar Leica mount lens collapsed safely into the camera bodies of the Leica CL, M8 and 8.2, but not the M5! Note that there are most likely unknown production variations in both the lenses and cameras, so proceed with caution before you inadvertently jam or damage your camera.
---
The Voigtlander Bessa T has a special place in Leica M mount camera history.
First of all, the Bessa T is a unique camera design utilizing a built in rangefinder without a built in viewfinder. It is the ONLY Leica M mount camera with a built in diopter adjustment for the rangefinder. It is the ONLY Leica M mount camera with a meter readout visible from the top of the camera, making it ideal for low angle and Visoflex applications. It is the 1st mechanical shutter Leica M mount camera not built in cooperation with Leica. It is the least expensive Leica M mount camera ever made. It is the first Leica M mount camera made by Cosina Voigtlander. All in all, not a bad list of achievements for Mr. K's 1st M!
Prices Voigtlander System Bessa Chart Bessa R2A/R3A Bessa R2 Bessa T Heliar 101 101 PICS Bessa T intro Bessa T T or IIIf? Bessa R Lenses 35/1.2 21/25 Shade
Accessories VC Meter II MiniSoftRelease Bessa R2S & R2C SC Lens Intro SC Lenses SL Lenses SL 12&15 Lenses Prominent 50mm Lens Adapter
---
CameraQuest Home Shopping Cart Price List Camera Articles I Buy / Wants Repairs Books Adapters
Revised: September 11, 2017 . Copyright © 2002 Stephen Gandy. All rights reserved. This means you may NOT copy and re-use the text or the pictures in ANY other internet or printed publication of ANY kind. Information in this document is subject to change without notice. Other products and companies referred to herein are trademarks or registered trademarks of their respective companies or mark holders.