Home Camera Articles FOR SALE Orders I Buy / Wants Repairs Books Adapters
Prices Voigtlander System Bessa Chart Bessa R2A/R3A Bessa R2 Bessa T Heliar 101 101 PICS Bessa T intro Bessa T T or IIIf? Bessa R Bessa L Bessa L/A Lenses 35/1.2 21/25 Shade VC Meter II MiniSoftrelease Bessa R2S & R2C SC Lens Intro SC Lenses SL Lenses SL Lenses SL 12&15 Lenses Prominent 50mm Lens Adapter
Voigtlander 28/35 Mini-Finder on the Ricoh GR-D and Epson RD-1
by Austin Texas Photographer David Lykes Keenan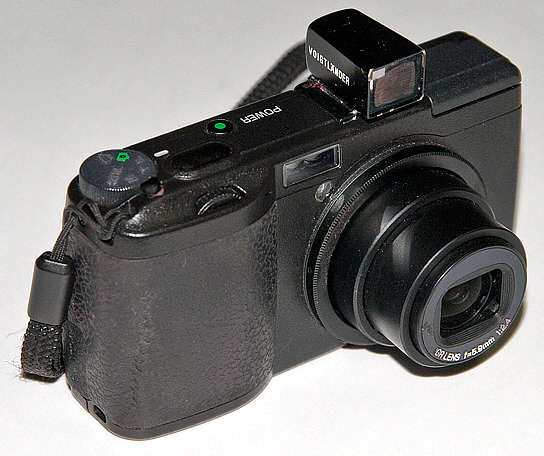 As a self-processed photographer and camera gadget, tinkerer, I have cycled through a lot of gear over the past four to five years. Of course, the goal has always been to help make myself a better photographer -- or, maybe, to just have more fun taking pictures. Through all of this buying, experimenting, reselling; buying, experimenting, reselling, etc., there are now some fixtures in my kit that now seem pretty doggone permanent.

Standing strong upon my essential accessories are two tiny Voigtlander 28/35mm external mini-finders. Insignificant in size when compared this stable of quality cameras and lenses, yet they have proven absolutely essential for me in operation of two of my favorite cameras.

In my kit, one of the mini-finders has found a permanent home atop my Ricoh GR-D, a point-and-shoot type camera that cries out for some kind of optical viewfinder. I find the mini-finder the perfect accessory for the GR-D mainly due to its demure size which allows the camera and mini-finder to fit nicely in a small leather case that is always on my belt. If I want to carry the GR-D (and I do), no other camera/viewfinder combination fits -- and, frankly, the larger 28mm viewfinders just flat out look out of place on a camera the size of the GR-D. Of course, the 28mm frame lines match up nicely with the field of view (FOV) of the GR-D's 5.9mm (28mm-e) integral lens.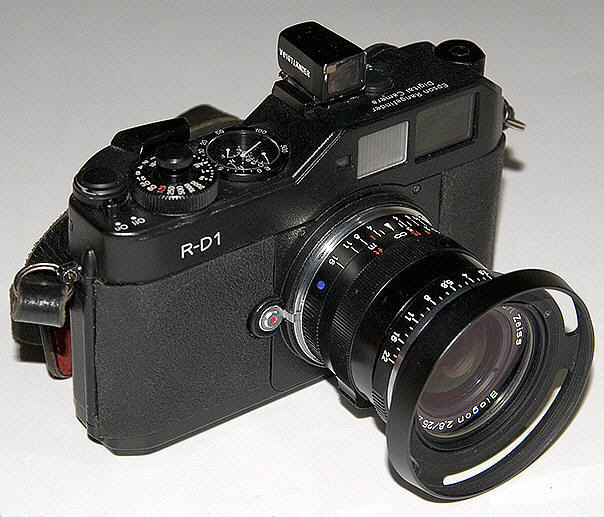 The permanent home of my second mini-finder is atop my Epson R-D1 (a digital Leica M mount interchangeable lens rangefinder) which unfortunately has a built-in viewfinder that isn't very friendly to wide angle lenses. Put a 28mm lens on the R-D1, dial in the frame lines, and your FOV is effectively that of a 43mm lens. Now I love the R-D1 -- but this rangefinder photographer also loves wide angle lenses and 43mm, well, that just doesn't cut it. But with the mini-finder in the accessory shoe, my Zeiss Ikon 18mm and 25mm lenses (which become effectively 27mm and 37mm lenses) are ideal choices for wide angle use on the R-D1. The mini-finder's 28mm and 35mm frame lines do not perfectly frame the effective FOV of the Zeiss lenses on the R-D1 but they are pretty darn close. And taking advantage of smaller apertures (when possible) and the significant depth of field of these lenses, using zone focusing techniques almost completely eliminates the need to use the R-D1 built-in viewfinder to focus -- just frame through the mini-finder and click..


It's not that either the GR-D or the R-D1 are not usable without one of these handy-dandy Voigtlander 28/35mm mini-finders but at for how I like use them (i.e., the GR-D with an optical viewfinder and the R-D1 with wide-angle lenses), this comparatively inexpensive gadget is indispensable. Many thanks to the boys and girls at Cosina and Voigtlander for making this possible.

Photographer, Austin Texas USA

Copyright © 2008 David Keenan. All rights reserved.
---
Voigtlander 28/35 Mini-Finder
Discontinued but Sometimes Available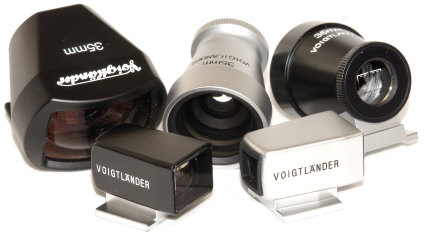 Introduced at PMA in Las Vegas February 2004, the Voigtlander 28/35 Brightline Mini-Finder weighs in at an amazing 19grams. It has .5 Magnification, a minus .5 Diopter adjustment, and 5 elements in 5 groups. Both the 28 and 35 brightlines are visible at all times. Chrome and black versions are available. Mini-Finders are shown here besides the larger Voigtlander 35 metal finders, and the plastic 35 finder. Parallax at 3 feet / 1 meter is indicated by a line at the top right of the brightlines.

The 28/35 Mini-Finder is a particularly good compact finder choice for Leica screw mount bodies, the Leica M3, and Voigtlander R3A / R3M (which have no 28 or 35 frame lines). The 28/35 Mini-finder is shown here mounted on a Shintaro painted hammertone Leica IIIg.
---
Revised: June 04, 2014 . Copyright © 2004-14 Stephen Gandy. All rights reserved. This means you may NOT copy and re-use the text or the pictures in ANY other internet or printed publication of ANY kind. Information in this document is subject to change without notice. Other products and companies referred to herein are trademarks or registered trademarks of their respective companies or mark holders.